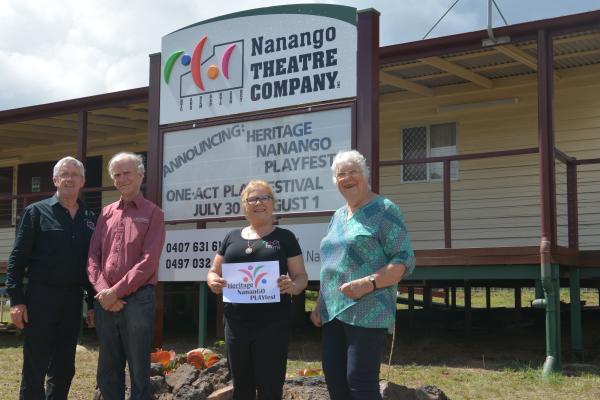 By Nanango Theatre Company's Jon Fearnley
Local theatre lovers are eagerly awaiting the finale of the NananGO Fringe PLAYfest this weekend on Saturday, 16 October.
Patrons will be delighted by a range of three one-act plays including the standout new play in this year's South East Queensland Drama Festival Circuit. Mark and Shirley Lucas' Roanoke dominated this year's Covid foreshortened circuit with a majority of best play awards as well as many other acting and directing awards.
Theatre Company President Jon Fearnley said that Nanango would have missed out on this play as Mark and Shirley were going to be our PLAYfest adjudicators, and so weren't able to nominate with us. Now we have people coming from the other theatre companies to see the play in the last performance this year. The premise for the play is the mysterious end to a colony on an island off the east coast of America around 1590.
"With language from the time and intense emotions and relationships, this is drama at its best," Jon said.
The play warns that "Not all danger comes with a warning".
Toowoomba Repertory Theatre is also presenting the drama Refuge, and after the late withdrawal of another play, Nanango Theatre Company players will present a surprise comedy to delight the audience. Refuge features unusual staging with the actors enduring a terrorist takeover of their hotel and how they endure it in a cleaner's cupboard.
Jon said that while the NananGO PLAYfest is a new format for the Company, the success of the Fringe PLAYfest gives us a lot of energy and courage going forward to the 2022 PLAYfest. The original aim of having up to 15 quality plays for theatre lovers over one weekend will truly present a smorgasbord of theatre for the South Burnett theatre lovers.
Our intimate theatre in Nanango only holds around 50 people so patrons are advised to book early, on TryBooking.com/BUFLK or by phoning Jon on 0407 631611.