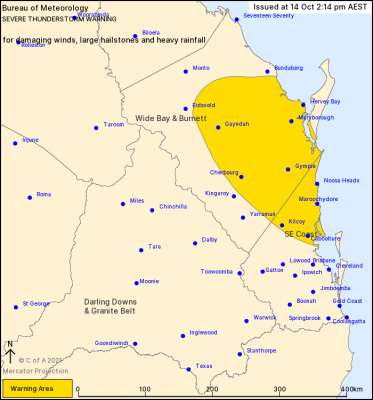 By Neesha Sinnya
Queensland Ambulance Service, Advanced Care Paramedic Jen Kinsela has urged drivers to take care on wet roads.
This comes as a severe thunderstorm warning was issued this morning for the Wide Bay Burnett region.
"We have been called to a few road traffic crashes, we've contributed this to the wet weather.
"We are encouraging drivers to drive with their lights on, slow down and drive to the conditions – and remember to be extremely cautious on the wet roads," Ms Kinsela said.
UPDATE:
The Bureau of Meteorology has issued another storm warning at 2.14pm on Thursday, 14 October.
An active trough extends north into southeast Queensland from a cold front along the east coast. The trough will combine with strong winds associated with an upper trough leading to the development of severe thunderstorms this afternoon and evening.
Severe thunderstorms are likely to produce damaging winds, large hailstones, and heavy rainfall that may lead to flash flooding in the warning area over the next several hours. Locations that may be affected include Maroochydore, Gympie, Caboolture, Hervey Bay, Cherbourg, and Redcliffe.
EARLIER:
The severe thunderstorm warning for heavy rainfall was issued by the Bureau of Meteorology at 7.35am on Thursday, 14 October.
A band of rain with embedded thunderstorms is slowly moving across southeast Queensland areas.
The next warning is due to be issued by 10:35am.
Queensland Fire and Emergency Services advise that people should:
* Never drive, walk or ride through floodwaters. If it's flooded, forget it.
* Seek shelter, preferably indoors and never under trees.
* Avoid using the telephone during a thunderstorm.
* Beware of fallen trees and powerlines.
* For emergency assistance contact the SES on 132 500.