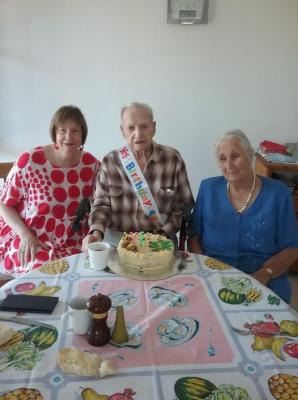 by Julian Lehnert
A former Mundowran and Cattle Creek resident has hit the milestone of a lifetime, celebrating his 100th birthday with his family in Brisbane on 5 October.
Eric Kreher grew up on his parents' dairy farm at Cattle Creek in the early 1920s, attending Cattle Creek Valley State School throughout his childhood and later living in the nearby locality of Mundowran, where many North Burnett residents to this day remember him.
His stepdaughter, Gene Connolly, recounted her father's storied past in the North Burnett and Central Queensland regions.
"His parents had a dairy farm at Cattle Creek and he went to the school there," she said.
"He left school at 13 to work on his parents' dairy farm until a fairly big drought came, after which he went to find a job picking fruit at Stanthorpe.
"The fruit contractor liked him – he said he was an honest, hard-working man – so, when the fruit season was finished, he found him a job at the sheep sheds in Mitchell, Quilpie and Eulo.
"He would go from the fruit to the sheep depending on the season, until his mid-twenties, when he went back to his parents' farm and married Mum.
"Mum married Eric when I was around six and a half. Eventually they bought a property at Mundowran.
"From Mundubbera, they grew what's called a 'brigalow block' in Maura in Central Queensland in 1963; that's where we stayed until I got married to the neighbours' son in 1969," she added.
"My husband and I moved to Brisbane, mum and dad moved to Hervey Bay and lived there for several years until they, too, wanted to come down to Brisbane to see all their grandkids."
Following the passing of his wife Charlotte Gleich earlier this year, Eric continues to live in Brisbane, where he sees his stepdaughter Gene frequently.
"I go over to visit him every other day," Gene said.
"Mum only passed away in May – she was 98 years old. Dad won't go in a home and he won't live with me, so he stays in his own unit here in Brisbane."
"We came back to Mundubbera earlier this year, because Mum said she wanted to be buried there. The town has certainly changed since we left in 1963," she said.
Remnants of the Gleich and Kreher families can still be found in Mundubbera today, with Charlotte's youngest sibling, Leslie, living in the area at the ripe age of 91.
When asked about Eric's secret for reaching the elusive 100-year milestone, daughter Gene said that a simple life is sure to have contributed to his impressive lifespan.
"[Dad] gave up smoking when he was about 30 and was never much of a drinker," she said.
"Mum was not a fan of going out – she'd say she would rather stay in and cook her own food.
"They ate the basic meat and three veggies every day.
"I asked him what his secret was, and he said 'honest, hard work, and clean living'."
Gene made an announcement regarding her father's birthday on a Mundubbera Facebook group earlier this month, receiving dozens of comments and well-wishes from locals who remember the former Mundowran resident.
She showed Eric the post at her next visit, recounting that the centenarian appreciated the love and support from his former hometown.
"He was quite pleased that everyone was wishing him a happy birthday, but also quite intrigued that people could send him messages this way," she said.