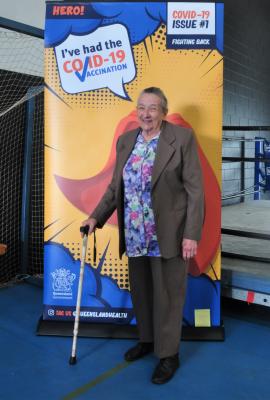 By Neesha Sinnya
Burnett residents are lining up to receive their Covid-19 vaccine as Queensland welcomes pop-up vaccination clinics across the State.
According to an Australian Government Geographic Vaccination Rates monthly report released on 11 October, more than 60 per cent of eligible Burnett residents have received their first vaccine dose.
The report revealed 63 per cent of the eligible Burnett population have received at least one dose of the Covid-19 vaccine, while 45.6 per cent are fully vaccinated after receiving two doses of the vaccine.
BURNETT VACCINE CLINICS
Darling Downs Health will provide doses of the Covid-19 Pfizer vaccine at a clinic at the Kingaroy Showgrounds starting this month.
The clinic will be opened from Tuesday 12 October to Thursday 14 October from 7.30 am to 6.30 pm each day, and on Friday 15 October from 7.30 am to 11.30 am.
The clinic is open to all South Burnett residents aged 12 years and above.
"The best way to protect yourself, your loved ones, and your community from COVID-19 is by receiving a vaccination," Michelle Forrest, acting Executive Lead for the Darling Downs Health Emergency Operations Centre, said.
Bookings are preferred and can be made via this website www.vaccinebookings.health.qld.gov.au
If you have questions about the vaccine, talk to your doctor or health care worker to get the most up-to-date and correct information.
If you plan to attend the clinic, please bring ID, your Medicare card, and a pen.
Earlier this week Cherbourg Hospital welcomed a Covid-19 vaccination clinic.
The clinic was held from Tuesday 12 October to Wednesday 13 October and welcomed residents aged 12 years and over.
First and second doses with walk-ins were administered, with another clinic scheduled to return in November.
North Burnett residents were able to receive their vaccines as a Wide Bay Hospital and Health Service coronavirus vaccine van toured the region in the past months, with other North Burnett towns scheduled for later this year.
The van will be offering the Pfizer vaccine to all community members aged 12 and above with walk-in appointments available, though registrations prior to attending the clinic are preferred.
Wide Bay Hospital and Health Service Vaccine Lead Fiona Sewell said that the vaccine van program can serve as the main way of accessing the jab in rural communities.
"Many people in these communities have been eager for the vaccine to become available to them and Wide Bay HHS thanks them for their patience," Ms Sewell said.
"Our mobile clinic is the next step that will enable us to maximise Covid-19 vaccination in our smaller communities," she added.
"During October, clinics are being planned for Biggenden, Mundubbera, and Gin Gin, while Eidsvold, Mt Perry, and Monto are being planned for November," a WBHHS notice explained.
"I encourage people in these towns and their surrounding districts to register their interest in being vaccinated so our team can book you for an appointment when the vaccine van stops by your community," WBHHS Vaccine Lead Fiona Sewell urged.
"We're continuing to work with local GPs in these towns about the clinics – which do remain flexible based on need so it's important people do register so we know the demand in each community.
"By getting vaccinated you're supporting protecting yourself, your loved ones, and the broader community that you belong to."