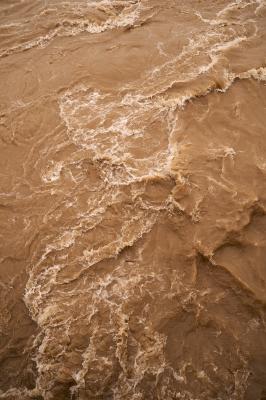 By Neesha Sinnya
Emergency services were called to the scene of floodwaters as a man was left stranded in a tree in Brooklands this afternoon.
Multiple Queensland Fire and Emergency Crews were called to Darley Crossing Road at 12.15pm on Friday, 12 November, after a car with two people was swept into floodwaters.
A rescue chopper was also sent to the scene but QFES crews were able to assist the man before their arrival.
A QFES spokesperson said a vest and rope were used to retrieve the man from the tree, while the other passenger managed to escape and call for emergency help.
By 1.00pm the man was rescued by QFES crews.
The Queensland Ambulance Service were also called to the scene at 12.22pm.
The two patients were transported to Kingaroy Hospital in stable conditions.
KEEPING SAFE IN FLOODWATERS
Queenslanders are again being reminded to heed warnings from the Bureau of Meteorology and other authorities to ensure their safety.
Acting Minister for Emergency Services Mark Furner said residents need to stay out of floodwaters.
"It's easy to assume a flooded road is safe to drive through," the Minister said.
"It's not safe driving through flood water can put lives at risk.
"Danger can be well-hidden by floodwaters and the smartest and bravest thing a driver can do is to back it up. If it's flooded, forget it.
"Also, make sure your household has an emergency kit packed and ready, and download the SES Assistance QLD app for storm-related assistance."
The Bureau of Meteorology has forecast severe thunderstorms with heavy rain and damaging winds across parts of southern, central, and north-western Queensland today, with conditions remaining threatening in the east of the state on Friday.
Some areas in southeast Queensland are expected to receive up to 200 millimetres of rain, increasing the risk of flooding in areas, including the Darling Downs and Maranoa regions.
QFES Commissioner Greg Leach said QFES is well-prepared and ready to respond to emergencies arising from the conditions.
"We have deployed SES flood boats to various locations throughout the Darling Downs region, along with FRS Swiftwater crews.
"It's not too long ago that this helicopter was used to support bushfire fighting efforts, so it's a reminder that Queensland's weather can be volatile, and Queenslanders need to prepare for anything.
"Queenslanders are urged to remember, if it's flooded, forget it."
For storm-related assistance, call the SES on 132 500 or download the SES Assistance QLD app. In a life-threatening situation, always call Triple Zero (000).