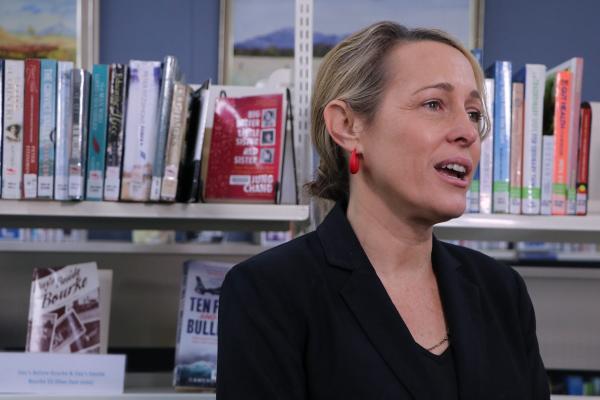 by Julian Lehnert
The North Burnett Regional Council Mayor Rachel Chambers has addressed an impassioned letter to Queensland Premier Annastacia Palasczuk over the looming coronavirus vaccine mandate deadline, calling the decision "unfair".
Ms Chambers addressed her fellow councillors and members of the public at Council's monthly general meeting at Biggenden on 24 November, reciting a speech directed at Premier Palasczuk.
"We as councillors, have worked hard to support the State and Federal Government's efforts
since this pandemic began," Ms Chambers said.
"We have also done what we can to support the vaccine rollout, including encouraging the
community to consider vaccination as the best way to protect themselves, their families and the
wider community.
"We understand the motive behind the State Government's latest plan is to encourage greater
vaccination rates through a carrot and stick approach.
"I hold grave concerns this approach will unfairly punish many within our community and
ultimately decimate our local businesses and I know I am not alone with many around the
Council table and within the wider community holding similar views," she added.
The mandate proposed by the State Government, which will come into effect on 17 December or if the state reaches an 80 per cent double vaccination target, will see unvaccinated patrons barred from various venues across the state.
"Small businesses are the lifeblood of our community, but for many, they face closing their doors
from December 17 should the State push forward with its plans to prevent unvaccinated people
accessing certain businesses and venues," Ms Chambers said.
The North Burnett Mayor suggests that, should the mandate go ahead as outlined, local businesses in the region will face significant struggles.
"The new rules will not only mean they will lose customers, but staff as well," she alleged.
"It will also mean greater costs incurred. Already businesses have approached us to say they will not survive these changes as these are the same businesses that have been the most impacted by previous restrictions and shutdowns.
"Once again, they are the ones being asked to do the work, without compensation, without extra resources and without a clear understanding of their obligations," she said.
Ms Chambers explained to her assembled Council staff that community members in the region have come forward, asking the local government organisation for help ahead of the looming mandate deadline.
"Community members have also approached us to share their views of the mandates. In
summary, they believe the mandate contradicts a range of freedoms Australians have based
their proud citizenship on," she said.
"Rural communities like ours have done everything asked of them to this point even though, in
the North Burnett, we have had no cases.
"We have followed the rules, we have lost business, we have been without family and friends and right now, we are all trying to rebuild.
"The disaster response has been led by Queensland Health for obvious reasons to this point
however the State Government imposed mandate now goes a step too far. It is not the right
approach.
"We strongly support the need to keep our communities safe from COVID-19 but health risks are only one risk to our community.
"The real and significant risks to our region are economic and social risks. In an already difficult 20 months, the timing on this mandate just prior to Christmas couldn't be worse," Ms Chambers added.
The North Burnett Mayor finished off her speech with a series of feedback regarding the mandate directed at the State Government, urging Queensland's representatives to consider the impact their decisions will have on regional areas.
Ms Chambers suggested that her community's concerns regarding the mandate, the resultant loss of essential freedoms and the large-scale confusion surrounding obligations and liabilities imposed on businessowners have her constituency worried.
"Many of the North Burnett community are not anti-vax but are anti-mandate," she said.
"We urge the State Government to consider alternative measures as the proposed mandates are causing great angst within our community."
Ms Chambers' speech was acknowledged and resolved by attending Councillors at the Biggenden meeting.