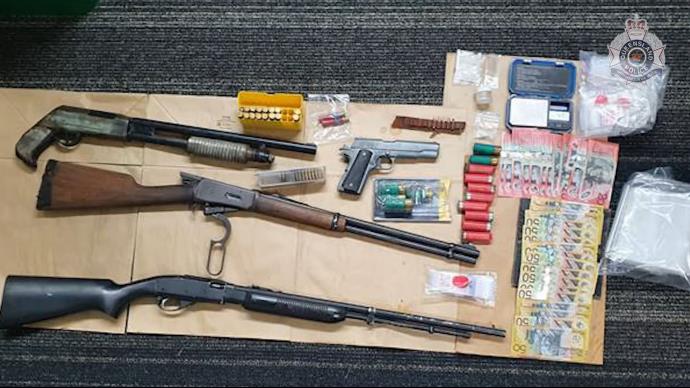 Murgon detectives have charged a total of 57 people with 404 charges and seized firearms and drugs following the closure of an operation targeting the supply of methylamphetamine in the South Burnett.
Operation Konopie, a five-month operation, targeted drug supply across Murgon, Cherbourg, Nanango, Kingaroy, Gayndah, and Mundubbra.
On 18 November 18 as part of the operation closure, investigators executed a search warrant at a Tarong property.
During the search of the Tanduringie Drive residence police allegedly located and seized quantities of drugs including methylamphetamine, two firearms, and two replica guns, ammunition, and cash.
A 50-year-old Tarong man was charged with 62 offences including 50 counts of supplying dangerous drugs, and one count of trafficking dangerous drugs and receiving or possessing property obtained from trafficking or supplying and other related offences.
He appeared in the Murgon Magistrates Court on 19 November.
Police will allege the man supplied more than $20,000 of ice amphetamine over a five-month period in the South Burnett.
Detective Acting Inspector Renee Garske said the results reinforce QPS' ongoing commitment to disrupting and dismantling drug supply
"Community information and collaboration between regional and specialist officers has been vital to the success of this operation," Detective Acting Garske said.
"Operation Konopie has removed drugs and weapons from the streets, making the community of South Burnett safer."