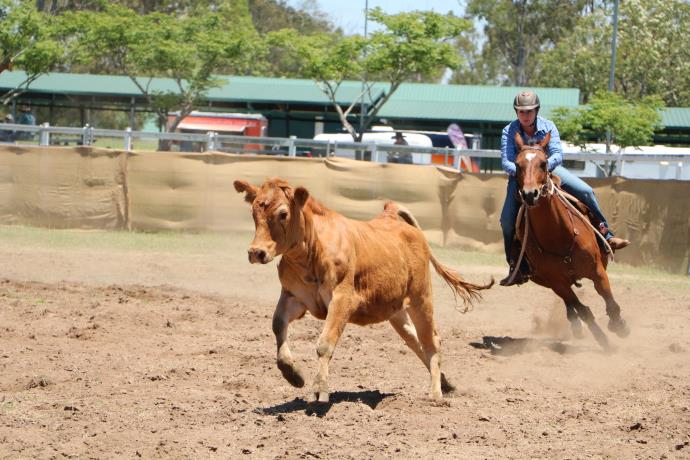 by Julian Lehnert
The two-day Nanango Campdraft wrapped up over the weekend of 20 and 21 November, attracting scores of riders and riding enthusiasts to the town's Showgrounds for a wealth of exciting cattle-wrangling action.
After being forced into a week-long delay due to heavy rainfall in the region, the five-section campdrafting event went ahead under clear skies and scorching sun to great acclaim.
Hosting live music on Saturday evening as well as a wide selection of food- and coffee trucks, the weekend competition breathed new life into the town of Nanango, with the Campdraft Committee thanking its loyal visitors and supporters for their dedication to making the event truly special.
"The Nanango Campdraft Committee would like to thank all competitors for supporting the draft," a post on the Committee's Facebook page on Sunday evening read.
"Special thanks [go out] to our cattle donors, sponsors, judges and our hard working volunteers. "Congratulations to all winners and place getters. Looking forward to seeing everyone next year," the post concluded.
Section winners and place-getters:
**Open**
1. Ned Perett – Clue So
2. Zoey Young – Youngmere Montana
3. Kyrah Rockemer – Colette
4. Greg Knowles – Paspaley
5. Ned Perett – H
6. Stuart Frame – Burlings Sophina
Highest Scoring Lady Rider – Zoey Young – Youngmere Montana
Highest Scoring Mare – Zoey Young – Youngmere Montana
**Maiden**
1. Jodie Accornero – Please
2-3. Ryan Brown – Flash
2-3. Shannon Kasper – Donell Park Colonel
4-8. Stuart Frame – Playing Sweet
4-8. Mitchell Hunter – Starwaltz Try Victorious
4-8. Luke McEwan – Radke's Lacey
4-8. Ned Perrett – H
4-8. Anthony (Midge) Thompson – Kimba
Encouragement Maiden Rider – Dakota Collins
Highest Scoring Local Lady Rider – Kaycee Mowan
Highest Scoring Local Male Rider – Mitchell Hunter & Anthony (Midge) Thompson
**Novice**
1. Anthony (Midge) Thompson – Miss Alley Doc
2. Philip Matthews – Pledge College Gidyea Girl
3. Anthony (Midge) Thompson – Kimba
4. Laurie Beard – Dee Jay Cat
5. Brett Dodds – Cleaver
6. Stuart Frame – Playing Sweet
Highest Scoring Cutout 1st Round – Debra Lucas – Smart Rock Candy
Highest Scoring Cutout Final Round – Stuart Frame – Bella Donna
**Junior**
1. Jack Jeffrey – Acre Rey
2. Ava Tilley – Love Lace Ray Dee
3. Cleo Creagh – Emma
4. Ruby Mowen – Starlight
5. Brooke Fame – Whiskey
6. Matilda Anderson – Sweetie
Encouragement Rider – Jayda Jeffrey
**Juvenile**
1. Hayley Knudsen – Donald
2. Baylee Evans – Nyanda Crazy Cat
3. Jordan Louis – Yulgibar Doinit N Style
4-5. Amy Purkis – Scooter
4-5. Kasey Scott – Matilda
6. Denim Brown – Jepher's Mystique
Encouragement Rider – Maddy Taylor