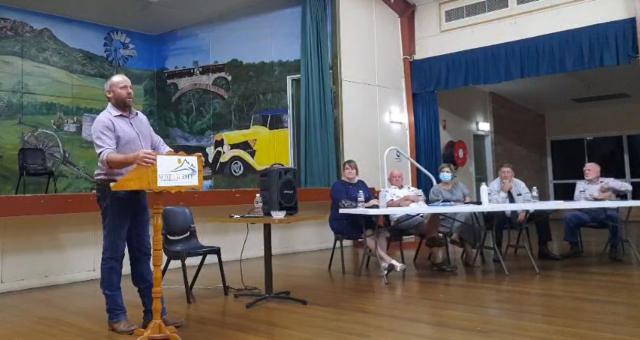 By Julian Lehnert
North Burnett electors had the chance to meet their five candidates in Council's upcoming mayoral by-election first hand last week, with the mayor hopefuls gathering in Biggenden's Memorial Hall on 5 January.
With the date of the election on 22 January less than two weeks away, residents jumped at the opportunity to ask questions about their candidates' plans for Council's top job, covering topics such as service delivery, the future of the region, and more.
Candidates Melinda Jones, Kevin Edwards, Sue Payne, Les Hotz and John Bowen were called upon to answer to their potential electors after a brief introduction and speech by current deputy mayor Robbie Radel.
"The role of Mayor for the North Burnett Regional Council would have to be one of the hardest roles to fill out that you could imagine," Mr Radel said.
"As you're all aware, the NBRC is under immense financial stress due to a whole number of different reasons, particularly the cutting of funding from State and Federal Government.
"The role of Mayor is getting tougher and tougher all the time. It's mentally, physically and emotionally draining and exhausting. It's a job you take on to fill the role 24 hours a day, 7 days a week – so, the person you elect needs to be a 365-day a year person.
"They need to be a good communicator – they need to be eloquent, because the role now more than ever requires trips to Brisbane and Canberra to advocate for our communities. As Mayor, they are the face of our community and the main advocates for our community," he said.
Questions asked during the event:
In 10 words or less, what is your biggest strength and your biggest weakness that may affect or help your role as mayor?
Melinda: My strength and weakness is that I have the ability to put people first – I have a huge heart.
Kevin: My biggest strength is my capacity to mediate, communicate, discuss and ensure the best decisions are made.
Sue: My greatest strength is that I am a very confident person and a strategic thinker, which I think the leader of this region needs to be. My greatest weakness is my inability to say no when I'm asked to do something for the community.
Les: My strength is leadership, and my weakness is time.
John: My strength is that I would not back down from our CEO and our managers.
Is there any chance of residents getting the option of a recycling bin?
Kevin: Of course there would be. It obviously depens on finances, but I reckon it's very successful in other areas. It needs a high priority.
Sue: Absolutely. We're being forced into it – the State Government told us that, by 2050, we will be 'Zero Waste'. There has just been some more funding released, and I've been reading up on it.
Les: Certainly there is an opportunity, but we need to be mindful of the cost. The government puts up funding, but the cost is what keeps it running, so you as the public would eventually be paying for it.
John: I think recycling is very important, especially for our younger generation. In Gayndah, we've got the old peanut factory, which has been sitting unused for 15-20 years. I think it would be a great opportunity for the North Burnett if we could talk to the government to do recycling there.
Melinda: Absolutely. I second what was said by the others – it does not need repeating – but it is a high priority especially when it comes to creating a sustainable community for future generations. A consideration will have to be put to community, because there is a cost involved with that.