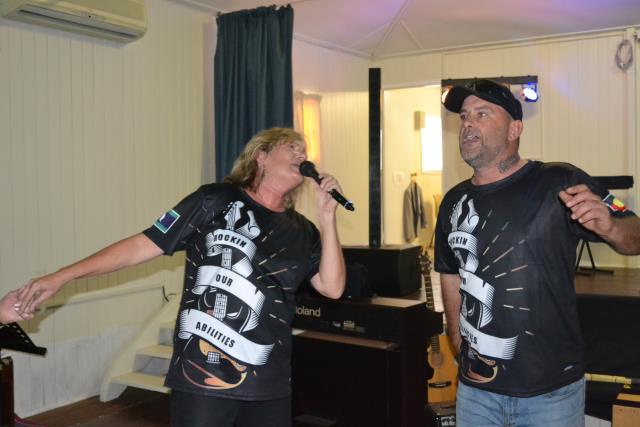 This award is presented to residents who display ongoing excellence in their community in recognition of their outstanding achievements and contributions.
Lachlan White – Nanango
In 2019 Lachlan moved from Durong to the township of Nanango.
His interests are within the church and gem hunting (South Burnett Gem and Fossicking Club), but his interest in theatre is what drew him to Nanango where he quickly became involved in many facets of its operation.
His involvement focused on supporting the theatre through behind-the-scenes activities from organising the wardrobe, set building, to oiling the verandahs and any maintenance that was required.
All of this has amounted to hundreds of voluntary hours, making Lachlan a reliable, tireless and willing volunteer.
Diane Gatenby —Kingaroy
Diane spends her days contributing to young people's lives.
She is the director of the South Burnett Childcare Centre and has served at the centre for more than 16 years.
The children at the centre refer to Diane as Miss Di.
Diane is loving, caring and very passionate – the things we all look for when leaving our children in someone else's care.
Diane provides a sense of warmth and security.
People like Diane play an integral role in our children's future, and her impact she has had on many will not be forgotten.
Mervyn Birch was also nominated for the Kingaroy Local Achiever Award.
Sonia McMahon – Murgon
Sonia was recognised of her sterling contributions to running a music program, Rockin' Our Abilities, each Thursday in Murgon.
She assists the locals with disabilities and has previously worked with a similar music program for people with disabilities on the Sunshine Coast.
She recognised there was a gap within the South Burnett and, in 2020, took up the challenge to create Rockin' Our Abilities.
John Walden – Hivesville/Proston
John was nominated by more than one community member for his persistence and dedication in caring for and attending to the Proston community.
He has a can-do ttitude and is committed to following through with any and all tasks, without praise or recognition.
The community of Proston is a richer community because of his participation.
Brett McGlone – Kumbia
Brett is a proud Australian Defence Force veteran who has been an active member of the Kumbia Community since 2018.
He has made a personal commitment to increase support services for the local veterans and their families and identified that there was a need for an RSL subbranch in Kumbia.
He also organised the ANZAC dawn services, bingo sessions, and helped raise funds for further local activities and services.
He also assists some elderly community members with their gardens and home maintenance.
Jayde Novak – Wooroolin/Memerambi
Jayde has overcome many health issues and has gone onto receive VHA awards at St Mary's, the little hero's award from Deb Frecklington, along with inspiring many young people to achieve in sport and academics.
She has spent time teaching children love and respect for horses, and helped them overcome their fears.
She has shown enormous compassion by taking in and housing homeless people.
Carol Weekes – Maidenwell/Bunya Mountains
Carol is a dedicated and motivated member of the community and her achievements are many and varied.
She is the secretary of the Bunya Mountains Community Association ,the liaison officer for the disaster management sub-committee, and the minute secretary for the Bunya Mountains
Rural Fire Bridge.
Her tireless and selfless dedication to the village is respected and admired by all.