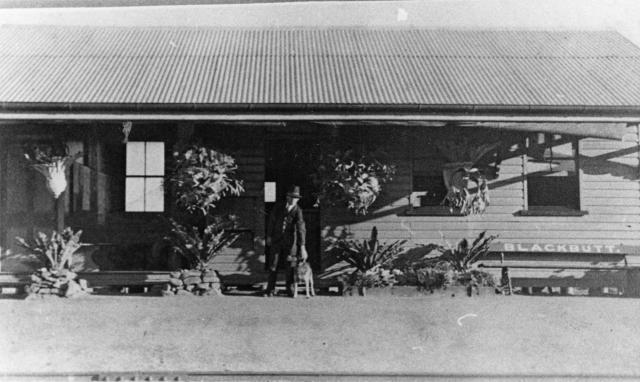 Blackbutt and Benarkin became well known for the timber industry which formed the economic backbone of the settlements but the original selectors of the blocks of land resumed from Taromeo came initially with ideas of clearing the scrub and planting crops and the scrub was more of a hindrance to them than an asset.
At the top of the Blackbutt Range just beyond Taromeo there was a welcome well-hole fed by a fresh spring and it was here that new selectors would camp when they first arrived, along with a steady stream of bullock wagons bringing supplies from Ipswich to the rapidly developing Burnett area further north.
The small settlement which sprang up was known as "Well Holes" until 1910 when a railway surveyor renamed it Benarkin, after the aboriginal name for the Blackbutt tree.
By the turn of the century an army of timbergetters had arrived to plunder the forests which covered the Blackbutt Range country while selectors cleared their land and built their first humble dwellings with split slabs and shingle roofs.
Early 1900s Benarkin was a thriving community supporting three hotels, two general stores, a fruit shop and a blacksmith with a dance hall in regular use. One hotel was pulled down in 1917 and moved to Toogoolawah to become a boarding house.
The other two hotels met a fiery end. One in 1918 and the other in 1930. The dance hall too shared that fate in 1918.
By 1909 there were four sawmills operating in the Blackbutt area. Anderson's Blackbutt Sawmill on the corner of Coulson and Hart Streets, Messrs Heaslip & Houston and Blinco Bros, both on Crows Nest Road and A J Raymond's Mill at Taromeo.
The area blessed with splendid growths of hoop and iron bark was starting to attract more settlers coming to work in the timber, and it is estimated by 1912 there was fully 100 million super feet of timber available and at the rate of output then it would take fifteen years to work out, and all four mills in the area were working to full capacity.
With the arrival of the railway in 1911 to Benarkin and 1912 to Blackbutt, the bullock wagons gave way to the timber trains taking the sawn logs, girders, bridge piles and railway sleepers to Brisbane and later as cattle began to proliferate in the district hundreds of cattle were taken away by special trains.