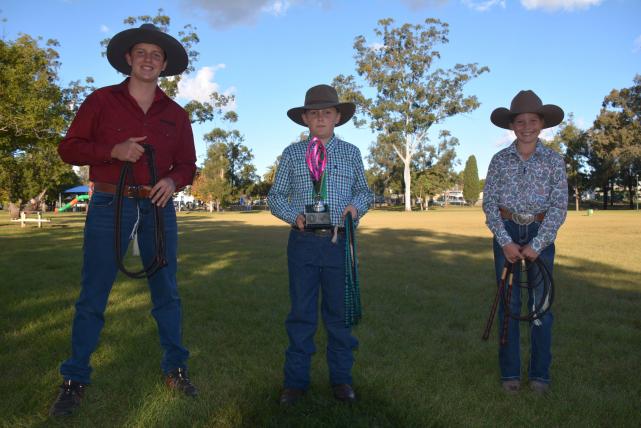 by Jessica McGrath
The South Burnett can claim three of the state's best young whipcrackers.
Jackson Kerkow, Giaan Zammataro and Braxton Bartlett all recently competed at the Australian Whipcrackers and Plaiters Association's Queensland Whipcracking Championships for 2022.
The championships were held at Boonah as part of the Scenic Rim Clydesdale Spectacular on Saturday 11 June.
Year 5 student at Kingaroy St John's Lutheran School Giaan Zammataro won first place in the Juvenile section.
"It was pretty amazing," she said.
The Kumbia girl did a routine of five tricks including an 'each way variation', fireworks and 'Cutler's March' and was judged on her accuracy and short routine.
Fellow Year 5 student at Kingaroy St John's Lutheran School, Braxton Bartlett managed to win third place in the Juvenile Section.
The Kingaroy boy was very excited for his first official competition for whipcracking and also received the overall encouragement award.
Jackson Kerkow is now in Year 9 at Kingaroy State High School, but is also a former student of St John's Lutheran School.
The Kingaroy teenager won the Junior section at the AWPA Queensland Whipcracking Championships 2022.
"It was pretty good -it was a really tight competition between first, second and third," he said.
Jackson was also recognised at the state championships with second place overall for accuracy out of every section.
2022 marks eight years of whipcracking for Jackson with one of his most exciting competitions including the Australian Whipcracking Titles.
He competed in the Australian titles at Gunnedah in March this year where Jackson came second in the juniors division.
Jackson also performed a whip crack routine at the 2022 Kingaroy Men's Shed's LifeFlight Dinner in April.
A love for whipcracking started for all three by being involved in the St John's Whipcracking Team.
Jackson's mother Tammy Kerkow had high praise for the school's whipcracking team.
"Jon Kotzur from St John's gives so much to school kids and community in general and what he has given to the kids in the Whipcracking Team is an opportunity to learn an incredible Australia tradition, life skills and a unique interest and passion for Whipcracking," she said.
"Which has also allowed for other adults who are passionate about Whipcracking to join in teaching such as Adrian Landherr and Paul Sims from our local South Burnett area."
As a student Giaan has loved the unique opportunity to join the school whipcracking team.
"It's not something that every school has, it's great to have it," Giaan said.
"It's a good way to represent the Australian tradition of whipcracking and keeping it going."
Since leaving St John's, Jackson is now self-taught and diligently practices at home.
"Around competition time I'd be out there cracking at 8 o'clock at night for a half hour to an hour," he said.
"The thrill of when you're learning a new trick -you're out there for two hours straight trying to get a trick going it just doesn't go and then after you get it the relief of [mastering] that trick."
Jackson also now teaches Giaan and Braxton whipcracking.
"Right now the best thing is teaching these little fellas how to whipcrack, that's probably the [best] thing about it and seeing them progress and seeing how good they've gotten over a matter of weeks of teaching them," he said.
Jackson reckons Braxton and Giaan have improved '10 times more' since he started helping them hone their whipcracking skills.
"I've learned more and I think that being out there when someone tells you how to do something or shows you or being able to put that in practice its a bit easier to put that in practice," Jackson said.
Jackson, Giaan and Braxton are looking forward to their next major competition at the Brisbane Ekka in August 2022.