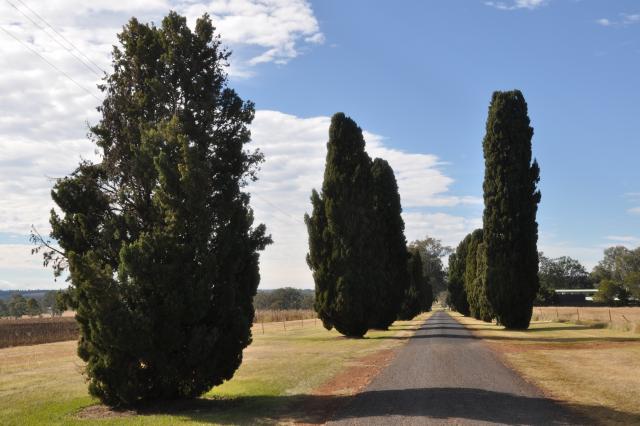 by Pam Kerr
Have you a connection to the trees that line Pioneer Avenue at the Taabinga Cemetery?
At a public meeting of the Taabinga Village School, in March 1947, a suggestion was made to the Council of the day, that when the upgrade of the grade of the road to the Cemetery was completed, a beautification scheme be created to line the road to the with Pine Trees to commemorate an everlasting memory of the pioneers of this district of that time.
The date, 2nd August 1947 would coincide with the 5oth Anniversary of Taabinga Village School.
The community families were invited, to adopt a tree and care for their tree, for three years until they were well established.
If families were not able to care for their tree, an annual fee of 10/- ($1) for three years would apply and paid in advance.
Some families choose to accept this option offered by council.
The ceremony of renaming the road was performed by Mrs Bertha Seeley, who as Miss Bertha Albion was the first teacher of Taabinga Village Provisional School that opened in 1897.
Councillor Jo Bjelke-Petersen turned the soil and planted the first tree in the new Pioneer Avenue.
So, by October of 1947, 40 trees complete with number and tree-guards, were planted by council.
Over the years, drought had taken its toll on some of the trees, some were replaced, some were never replaced, and that vacant spot is the only reminder of a family's adopted tree.
Below is the list of people who adopted a tree and if you believe a tree belongs to your family and would like to find its location, contact Pam Kerr on 0419 779 285.
This list of families was complied by Helen Svendsen's late husband Alan in 2003.
Alan's family adopted tree number 34.
Below is a table showing the family names and their tree number.