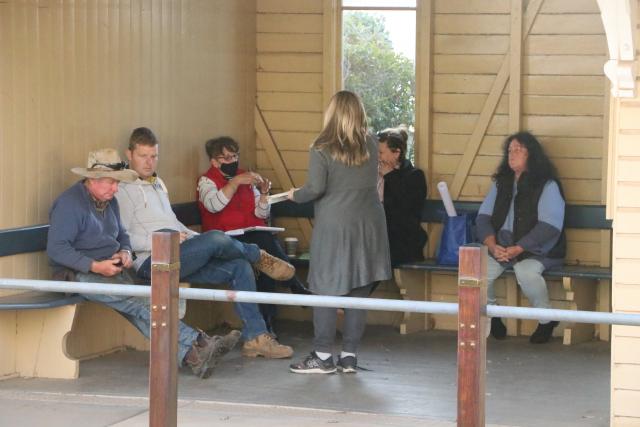 by Julian Lehnert
The South Burnett Regional Council has officially pledged to support the neighbours of a controversial solar farm development along Kingaroy Barkers Creek Road, offering its ability to block construction efforts unless energy company Mytilineos meets all necessary requirements.
The Kingaroy Solar Farm 'concerned residents group' met for one of its bi-weekly sessions at Kingaroy's 1913 Council Chambers on Edward Street on the evening of Thursday, 28 July.
This last meeting in July saw over a dozen neighbours of the solar farm development attend, with South Burnett Mayor Brett Otto also present to update the group's members about his council's involvement in the situation.
Members of the group shared updates on their fight against the solar farm development by Greek multinational developer Mytilineos, talking about recent meetings and correspondence with the company and its local contractors.
The group heard about the results of a meeting with Mytilineos's Community Liaison Officer Lluvia Murillo the day prior, which was attended by five concerned residents in an effort to gain more information from the company following what member Karen Mansbridge called a "divide and conquer" approach to community consultation.
According to leading group member Jeroen Beijsens, Ms Murillo could not provide any further or new information to the residents.
Mayor Otto was then asked to update the group about Council's ongoing efforts to meet with the company as well as relevant State Government politicians.
The Mayor conceded that the initial planning application by Terrain Solar, the company which was subsequently bought out by Mytilineos, occurred before his time in office; as such, a number of councillors had little to no knowledge of the exact agreement.
"After this group's last meeting [on 14 July] I went back to the CEO and asked for a mayoral briefing in relation to the full history of this application and approval," Mayor Otto explained.
"We want to know what stage [the development] is at – when they are going to start, if they have work permits, if they have their applications in, what sort of impact assessment was done by engineers, and so forth.
"That meeting is happening on Tuesday (2 August), and I've invited all the councillors to join me so we can get a full briefing," he added.
The Mayor also outlined his efforts to set up a meeting with Queensland State Minister for Planning, Steven Miles or the Assistant Minister Nikki Boyd.
"We've raised concerns that there are guidelines in place that are supposed to 'assist' these developers in terms of going about their work, in particular when it comes to engaging with the community and neighbouring properties," Mayor Otto said.
"One problem with these guidelines is that they're not enforceable by any regulational law. After the last meeting, I reached out to my staff to contact the Assistant Minister for Planning and organise a meeting in Brisbane where I want to go and make representation to her that these guidelines aren't worth the paper they're written on.
"We're pushing the government as a Council to introduce much stronger regulatory oversight in this space. I'm happy to make that representation, and I'm happy to ask the Minister to make that representation to the company on behalf of anyone affected," he added.
At last Thursday's meeting, the group's members raised concerns about the fact that, according to Mytilineos's project plans, construction on a driveway to the proposed solar farm was due to begin in two weeks' time.
Mayor Otto assured the group that Council will hold the company accountable and ensure that all applications, paperwork and regulations are followed before any construction can take place.
To this extent, the Mayor has pledged to block Mytilineos from beginning construction in case these requirements are not met.
"If they haven't met all the conditions on their development application, then Council will absolutely enforce their compliance," Mayor Otto stated.
"If there are things that they're supposed to do before they start work, and Council has the legally-enforceable powers to stop them from starting, then I can assure you that we will be enforcing those compliance requirements."
The decision was met with gratitude from the group's members, who have petitioned their local Council for a stronger stance on the project for some time now.
Mayor Otto left the meeting with a call to action, rallying the group to challenge Mytilineos on what Kingaroy residents have perceived as a "lax" approach on community consultation and accountability.
"I would like to see us as a community make it clear to them that we have an expectation of them to present themselves and answer our questions," he said.
"From what we've seen in this space in the last couple of years, these things are worth challenging," Mayor Otto added.
"Particularly when you have neighbouring properties – and in this case we have a large volume of them – they are adversely affected."
The group will gather for its next meeting on Thursday, 11 August.