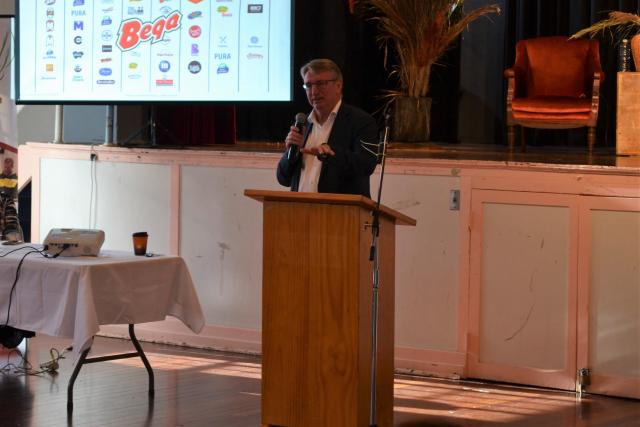 Euan Morrisson
The Red Earth Leadership Forum looked toward the long-term future the Burnett Inland regions will have to face.
Stakeholders of the future of the Burnett Inland held a forum at the Murgon Town Hall on Thursday, 28 July to discuss the future of the region.
The Red Earth Leadership Forum had guest speakers, including the member for Nanango, Deb Frecklington, Georgie Somerset who serves as a non-executive director on the boards of the ABC, the Queensland Section of the Royal Flying Doctors Service and the Queensland Children's Hospital, Misty Neilson who is a research and Funding Officer at Burnett Catchment Care Association, Barry Irvin- the Chairman of Bega Cheese limited, and Dr Chad Renando- the author of 'The Burnett Inland Futures' report.
Melinda Jones is a Councillor for Division 1 of the North Burnett Regional Council and project manager of the Red Earth Community Foundation.
She was one of the key figures that put the leadership forum together and said that the forum was about looking into the long-term future of the region and trying to better it as much as possible.
Melinda said people in the Burnett Inland, that's the North and South Burnett regions, should care because the future is going to affect everyone.
"It's your future," Melinda said.
"This isn't about government, this isn't about industry, this is about individuals and your future. So why wouldn't you want to have a say why wouldn't you care."
Red Earth is set to long-term future because they say that too often, governments and corporations alike tend to look to what is achievable within the immediate 4 to 5 years.
Melinda said they were looking to the future of the Burnett in forty or so years.
"In 2062 I'll be 85 so I'll be looking at… independent living at home, but what services do I need in the home at 85? If I look at an 85-year-old now, they don't have anywhere near the [necessary] services available to support them in the home."
One of the speakers, Barry Irvin- chairman of Bega Cheese, often repeats a quote attributed to Henry Ford,
'If I would have asked people what they wanted they would've said faster horses.'
Often the quote is used in the context of customer service and customer feedback, but in this context, the quote is meant to show that until one looks at new possibilities and innovation, one may be connected to old ways of doing things.
"You don't know what you don't know, so let's go and look for that, let's research that, let's find out what is out there that's possible, what can we actually do in our region that's going to help us, and that's going to move our community forward."
The Burnett Inland Futures report details that much government spending and innovation goes on around the Burnett Inland region, but there is a distinct lack throughout the Burnett Inland.
The report calls this a doughnut effect.
"In the Burnett Inland report, it talks about the hole in the doughnut, well we want to fill that with good tasty jam, we want to be the jam in the doughnut that everyone looks forward to, and that's what we're striving towards."
Red Earth say they're doing more than just talk though.
They've partnered with the Foundation for Regional and Rural Renewal (FRRR) which has given the foundation some funding that will be able to go to initiatives that are expected to come out of the leadership forum and other events in the future.
"If it is a big picture idea but it needs, a business case or planning or something behind it, then we actually can give them funding to get that done," Melinda said.
"We're very fortunate that it's not just about those conversations and gathering ideas we'll have some funding sitting there to enable that.
"It's not just going to be a pretty plan on the wall, no way. This is an action plan."
Dr Chad Renando was the author of the report 'Burnett Inland Futures' and the facilitator for the innovation and entrepreneurship breakout discussions.
Dr Chad said that the participants had done really well and were trying to come up with ways to boost innovation and entrepreneurial thinking.
"Things like how do we support our youth, entrepreneurial thinking and developing new ideas," Dr Chad said.
"How do we support established businesses and come up with innovations for the current model? How do we create a culture where it's ok to come up with an idea and maybe even fail, how do we get access to capital?"
Dr Chad said a real challenge they face is getting people to try things that have perhaps been attempted in the past but have since been changed, modified and improved upon.
"It's a really exciting opportunity if people buy into it."
"One of the big challenges with a lot of these things is people thinking 'that has been done before,' 'oh this is just like that thing we tried before'. What they don't realise is that everything we tried before is bringing us to where we are today."
Karen Seiler is a director of the Red Earth Community Foundation.
Karen said the event was a roaring success and that a lot of interesting ideas had been floated.
"It's absolutely exciting, just the quality of the people that we've got here, the ideas that are being floated and the excitement for the future, it's fantastic," Karen said.
Karen noted that the participants were enthusiastic about the future of the Burnett Inland.
"I think they're optimistic, the ideas that are coming forth."
"The possibilities and the hopes for the next 10, 20, 50 years, it's really opened the lid on those possibilities and from little things, big things grow."