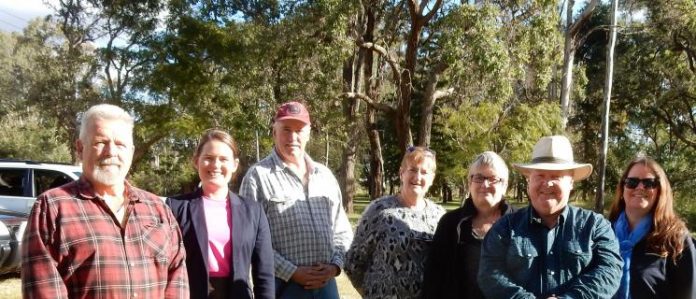 By Anne Skinner
The small town of Kumbia has taken an innovative approach to expanding accommodation options in the district.
If the Kumbia Hall Committee's initiative is successful, an unused stretch of land behind the main street will become a new free camping ground and RV dump point.
The site is expected to draw visitors to local sporting events as well as attracting passing caravan travellers to stay in the small town which prides itself as being the gateway to the nearby Bunya Mountains National Park.
The site, at the junction of Roberts and Gordon streets, is adjacent to the tennis courts and cricket ground and within walking distance of local shops.
It is also a leg-stretching walk to the Kumbia race track, which doubles as a golf course, and a short drive from the Bunya Mountains.
A meeting at the site on 18 July was told the land was part of a State Government reserve that also encompasses the present sporting facilities.
The meeting, held by South Burnett Regional Council Mayor Brett Otto and attended by Hall Committee members, councillors and council staff, was told an application would have to be made to the Queensland Department of Resources before any further discussion was possible.
Mayor Otto said the application would establish the land tenure and reveal any approvals already in place for the site.
"We can then examine costing of the project," he said.
If it goes ahead, the project would free up the much smaller Apex Park – which now doubles as a free camping site – to be returned to a children's park and picnic area.
"We want to return Apex Park to the community and we really want to encourage people to stay in Kumbia overnight," Mayor Otto said.
He said a new free camping ground would be an asset to Kumbia and could help to develop new sporting activities.
"We as a council want to see Kumbia grow and prosper," he said. "It would also provide a site where people could stay and access the Bunyas."
Division 6 Cr Scott Henschen said the proposed site would be a "win" for Kumbia.
"It will keep RVs out of the park where kids play and will also encourage people to walk through Kumbia and enjoy the rural outlook and the orchards," Cr Henschen said. "It will be a win for the local community."
The Kumbia Hall Committee has already obtained funding from energy giant AGL for the dump point tank and hopes to obtain council assistance for installation and servicing.
A second meeting to discuss the proposal will be held later this month.