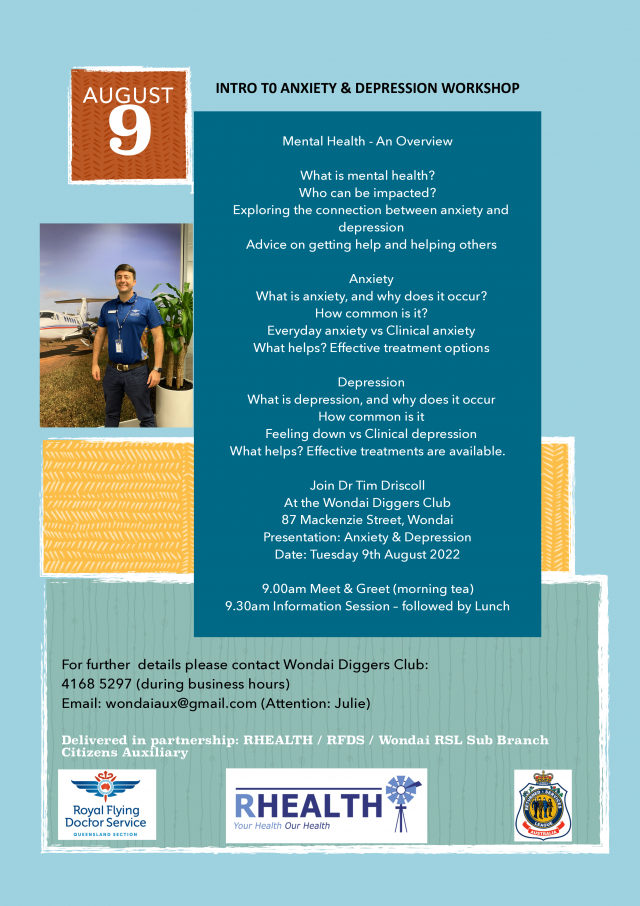 Learn more about mental health so you can better know how to look out for yourself and the people around you.
The Wondai Diggers Club will be hosting an introduction to anxiety and depression workshop with Dr Tim Driscoll from the Royal Flying Doctor Service from 9am on Tuesday, 9 August.
The workshop is set to be a beginner's introductory workshop to all things mental health.
According to the Australian Bureau of Statistics (2021), over two in five Australians aged 16-85 years (43.7 per cent or 8.6 million people) had experienced a mental disorder at some time in their life.
With just under half of all Australians experiencing a mental disorder at some point, this makes Dr Driscoll's workshop a very relevant information session.
One of the specific areas Dr Driscoll will look at is anxiety.
According to the Australian Bureau of Statistics, one in five Australians (21.4 per cent or 4.2 million people) had a 12-month mental disorder with anxiety being the most common with 16.8 per cent or 3.3 million people.
This information session is worthy of your attention because even though 8.6 million Australians had experienced a mental disorder in their life, only 3.4 million Australians saw a health professional for their mental health.
Whilst there would be many different reasons for these 5.2 million differences, knowing more about mental illness can only be of a benefit to yourself and the ones you love.
If you wish to know more on these topics, head down to the Wondai Diggers Club at 87 Mackenzie Street.
The meet and greet morning tea begins at 9.00am.