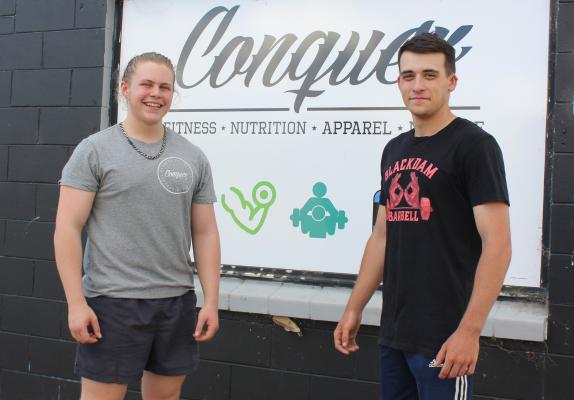 By Laura Blackmore
Kyron Clegg and Zayne Jensen have set the bar high after achieving some promising results in a powerlifting competition recently.
The Kingaroy boys, who both train at Conquer, qualified for the Brisbane-based event Civil Raw 3.0 at Ritual HQ for the first time from an event held at the local gym.
Both of the guys are about to finish their Year 12 exams and said powerlifting would be in their future.
Clegg, who came second in his category, said he was pleased with his results despite a few unexpected pre-competition concerns.
"I was honestly so stoked and couldn't be happier with the way I competed," he said.
"I didn't hit the numbers I wanted because of a few niggles in training, but I still got the job done.
"Some of the judges at the Conquer competition earlier in the year were coaches from the Brisbane gym.
"I ended up getting picked up by them and trained under them for this competition.
"I am going back to the same competition next year and hopefully will make the state teams in a few years."
Jensen, who came third in his category, said he had played a few different sports growing up, but was now focused on building up his strength.
"It was amazing to come third in the open men's category," he said.
"There was a lot of motivational music in the car down there but when you're leading up to the lifts you get super focused.
"I lifted all nine of my lifts and didn't get disqualified, except for the last one which got disqualified at the very end."
After working hard in the gym to make this dream a reality, Jensen said it was fulfilling to see his training pay off on the day.
"There's a lot of build-up towards a competition," he said.
"I spent 16 weeks working towards this competition, so the satisfaction of getting third made it all worth it."
Similar to Clegg, Jensen will continue to train for another competition early next year.
Conquer is hosting another powerlifting competition on Saturday, 21 November.
Be sure to check out Conquer's Facebook page for further information.