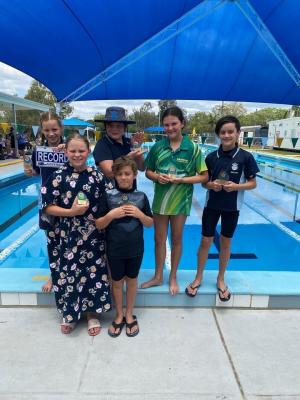 By Julian Lehnert
Students of St Joseph's Catholic Primary School in Gayndah smashed a series of long-standing records at the annual district swimming carnival held at Gayndah's swimming pool.
Swimmers aged from nine to 12 from Gayndah State School and St Joseph's competed in a series of disciplines including breast-stroke, butterfly, the individual medley, and the relay at the event on 27 November.
Matilda Doyle (10) broke the district record for 50-metre butterfly last set in 2011, as well as the 200-metre individual medley record from 2002, earning the young athlete an age champion award.
Other age champions:
12-year-old boys: Nathan Banks.
11-year-old boys: Shyloh Terry.
11-year-old girls: Ella Smith.
10-year-old girls: Matilda Doyle.
9-year-old boys: Elyjah Terry.
9-year-old girls: Imogen Coulson.