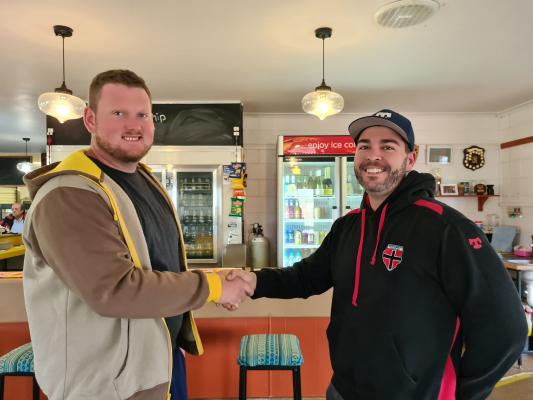 By Kate Mccormack
After building a brand new Aussie Rules club from the ground up following an ambitious idea with Will Reid at the end of 2012, the Kingaroy Saints' president of the past seven years, Daniel Clacy, is ready to pass on the torch.
2020 has marked many big moments for the AFL-mad dad, including celebrating his 100th game earlier in the season, as well as welcoming his gorgeous new son Jack with wife Bonny several weeks ago. But the year has also not been without its challenges.
"One thing we definitely need to work on as a club is maintaining and retaining players right throughout the season," Clacy said.
"We started to struggle for numbers towards the end of this season as we neared finals, for a number of different reasons, so this is something we will need to address as a club in 2021."
Last week the passionate president stepped down from his leadership role and handed over the reins to long-time Saint, Brad 'Teddy' Pressnell.
"Teddy has been a quiet achiever ever since he started back with the Saints and he's always given the team 100 per cent, whether it be on or off the field, so I'm confident I am leaving the club in very capable hands," Clacy said.
"I'm still very much looking forward to being involved with the club wherever I can, as well as assisting Brad and the club in terms of guidance and mentorship, but I also felt it was time I spent a little more time with my family.
"Plus I am really looking forward to seeing where a new leadership team will take the club over the next few seasons.
"It's an exciting time for the Saints, we finished this season on a great note with both the men's and women's teams doing well in the finals, and I have every confidence we will have an even stronger season in 2021.
"Next season we will have Sandy and Ben Banks from Dalby coaching us again, which is awesome news and a huge plus for us because the two of them really know their stuff and bring some great ideas to the club."
Clacy said there were several highlights from the past seven years, from building the club up from its infancy, to forming the women's team in 2014, to the men's team, and then winning the Grand Final in 2015 – there have been many proud moments for the club's founder.
"Knowing it all started with Will and I just kicking a ball around on the Saint Mary's school oval on the weekends for fun, to forming a fully-fledged premiership-winning club is a very special feeling," he said.
"I can't wait to see what this club continues to grow into and achieve in the years to come."