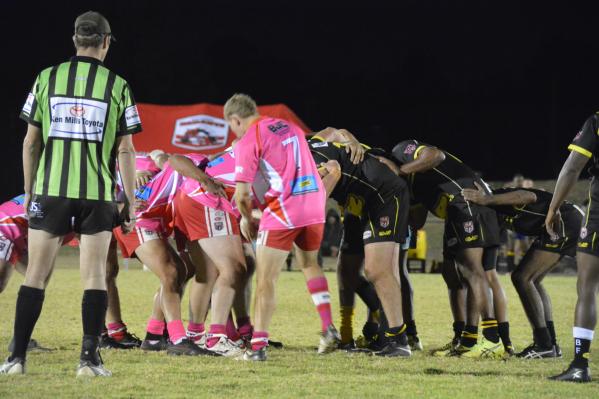 by Jessica McGrath
Rugby league players of all ages certainly were not blushing in pink, but rather standing proud during their 'Pink Day' carnival.
Kingaroy Red Ants Rugby League Club hosted the 2021 annual Pink Day at their home grounds on Saturday, 5 June, raising funds and awareness for breast cancer.
Red Ants Senior Vice President Marty McCracken said it was a fantastic turn out, with the players and the crowd donning pink for the cause.
"There's plenty of pink in the crowd," he said.
"Everyone is having a good time."
The club members sold baked goods in the shade of pink, sold Pink Day jerseys and entry prices all contributed to the grand total fundraised of $x.
The A-grade jerseys themselves were donated by Sunshine Coast business ZBR Zibara, with all of the money raised going straight to breast cancer support and research.
Players such as Red Ants A-grade player Adam Geiger remembered family members like his mother Linda who had her own battle with breast cancer.
'Pink Day' originated after a 'pink' touch football match was organised to raise money for breast cancer in Linda's honour and Adam also wanted to get pink jerseys for a rugby league charity match. The club got behind him and made it a bigger annual event, thanks to different business and community sponsors.
The 'Playing for A Cure' Pink Day is still going strong years on since the first match in 2015, in recognition for past, present and future club and community members that have or may be touched by cancer.
The charity day aims to bring awareness to the community, raise money and donate that back to the charity.
"We know that if cancer doesn't directly affect you, it indirectly affects you at some point in life, especially breast cancer," McCracken said.
"In a country community, sport plays a pivotal role in keeping people together."
McCracken said it was nice to see all of the age groups and clubs across the region coming together for a massive day of league.
"There has been lots of time and planning, and for that to come to fruition is fulfilling," he said.
The local South Burnett competition was joined by the under 15s, 16s and 18s South Burnett Rugby League teams which are playing in the Toowoomba competition. The Under 17s South Burnett girls team also played on the day, up against Roma/ Highfields.
Also the A-grade Red Ants Captain, McCracken said the 2021 A-Grade season grand final could still be anyone's pick with each club putting forward 'strong teams capable of winning'.