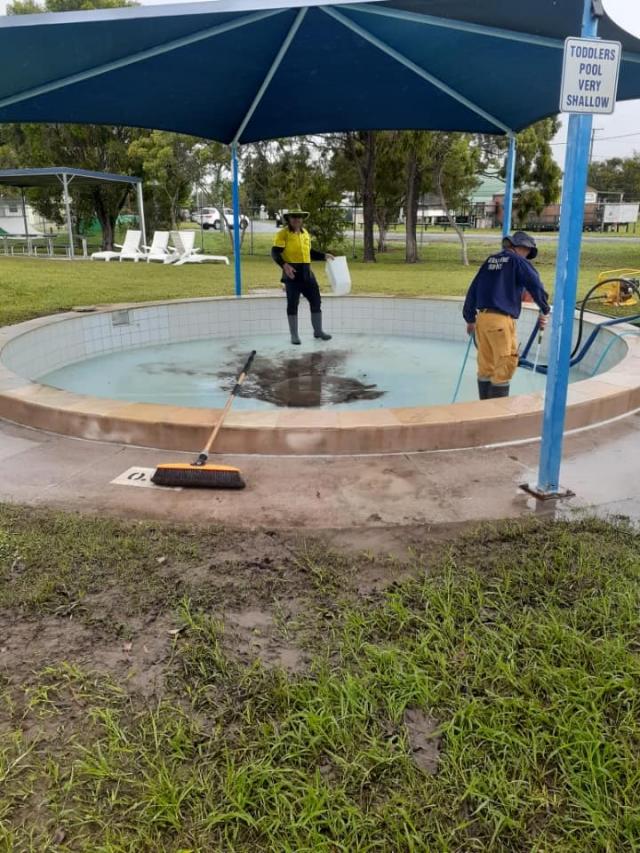 by Julian Lehnert
Following the devastating floods caused by last week's rainfall, sports facilities and clubs across the Burnett returned to their halls and premises to find water damage, flooding, and a build-up of dirt and mud throughout many of their buildings.
Goomeri's pool and the Tansey Bowls Club were hit particularly hard by the heavy rainfall over the weekend (see our flood photos on pages 40-42), with members of the two organisations sharing photos of the damages to their respective premises on social media earlier this week.
In response to the damage, crowds of community members descended on their local sports clubs, eager to help.
Volunteers aided in the clean-up efforts at Tansey's Bowls Club on Monday, 10 January, shoveling accumulated mud and debris off the bowling green, removing waterlogged carpets from the Club's interior, and even engaging in construction work by assessing and replacing plumbing and electrical works.
Community member Dan Richards shared the group's success on Facebook, praising his community's willingness to help out the Club.
"[F]rom ripping up carpets, shovelling the slop of the green, rinsing, washing, drying up, pulling walls off, electrical work, plumbing, loans of trucks and tractors, sandwiches being made, to even someone turning the pump on and off for water," Mr Richards recounted.
"From [a] nearly 80 year-old to a four year-old, all the help was so much appreciated. That is a COMMUNITY," he added.
Volunteers similarly helped out at Goomeri's swimming pool, which was inundated over the weekend as a result of rapidly rising floodwaters in the town's centre.
As part of a working bee on Monday, 10 January, helpers cleaned out mud and debris from the pools while also tackling minor flooding in the adjacent storage and maintenance areas.