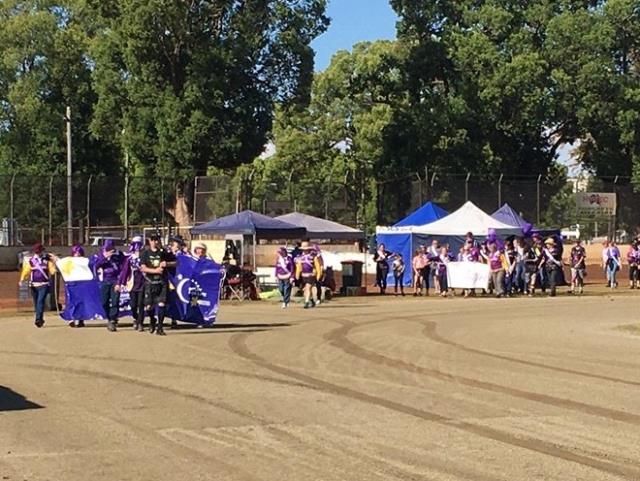 Euan Morrisson
Four mates are bringing a pair of cricketers from the Brisbane Bulls to play and spectate for three games of cricket over one full day.
On Saturday 11 June, Darren Lehmann and Jimmy Peirson from the Queensland Bulls masters will descend upon Kingaroy's Lyle Vidler Oval.
There will be three matches, a junior's match, a Maidenwell V Ironpot grudge match and a Twenty-20 between Darren Lehmann's Burnett Bouncers and Jimmy Peirson's Brisbane Blockers.
Gates open at 9am.
The four mates, Scott 'Hook' Henschen, Gavin 'Spud' Jones, Powen and Simon, were wanting to organise an event to raise money for the charity Relay for Life after the 'Dinner with the Captains' event was shut down at the last minute due to COVID restrictions.
They won the bid to have the pair of Bulls Masters attend a community event of their choice, so they decided to put on the event 'Cricket 4 Life'.
Money raised will go towards Relay for Life, the money from the food will go towards the junior cricket club and the bar money will stay with the cricket club.
It'll all be going to worthy causes.
Spud echoed the words of Mastodon bass player, Troy Sanders speaking on their Cancer concept album 'Emperor of Sand'.
"Cancer today has touched all of us in some shape or form," Spud said.
"Along the way, we'll have a bit of fun with it to you know, we'll promote a good cause."
Each raffle ticket will cost $10, but each ticket goes back into each draw meaning that it's possible for a single ticket to win each or several raffles.
Although this is unlikely.
Spud said that some of the raffle prizes were for some big-time stuff.
"There's 1000s of dollars worth of prizes in that. If your numbers are drawn out at the very first time, it goes straight back in so you could have the possibility of winning 10 prizes with the same number."
Both men said that the sponsors had been great to work with. That they were all very keen to get on board.
"Of the sponsors that we've asked, not one person has said no," Spud said.
"I [posted on Facebook] if I haven't asked you for sponsorship already for the relay or cricket for life. Please give me a call, well mate the phone rang off the hook," Spud said.
As well as money being raised from raffles, tickets and donations, Hook has publicly stated that he has something a little special in mind to generate some funds.
"For every Maidenwell player that gets a duck, they have to jump into an ice bath that I will be providing and I will donate $100 for each player that does it," Hook said.
Hook and Spud went on to say that, while it'll be a ball of fun, it will really be about Relay for Life and the work they do.
"It's not about individuals. It's not about any cricket clubs in the Burnett. It's about Relay for Life, and it's about mates having a good time," Hook said.
The Maidenwell V Ironpot game will also be held in memorial of Shane Cullen. A man well respected throughout both Ironpot and Maidenwell.
"He worked for a lot of people through that area and very well respected as far as cattle work and all that," Spud said.
The day promises to be a big event- not just with all the entertainment and festivities, including live music by the band the Misfitz, but also the donations.
"It's probably doubled our expectations," Hook said.
"It's probably, in fair comment, it's what we hoped it would be. Where we're at is exactly what we hope to do," Hook said.
They're cautiously optimistic, but say what they've achieved already is mind-blowing.
Both men reiterated that what they were both astounded by was the support of sponsors.
"We got we got sponsors from Yarraman through to Murgon and so we're pretty lucky," Spud said.
Anyone and everyone are encouraged to attend the day and support Relay for Life.
The event will be held at Kingaroy's Lyle Vidler Oval at 9am Saturday 11 June.
Sponsors for the Bendigo Bank Cricket 4 Life are.
Bendigo Bank
Barry & Leanne Krosch
RES Group
Stanwell
Construction Testing & Quality Services
G3 Engineering
All About Skin
MISfITZ
LJ Hooker South Burnett
Harvey Norman Kingaroy
Murgon Betta Electrical
The Little Butcher
4SB 1071 AM
AGL Energy
ATC Engineers
Bunyarra Counselling and Mediation
Burnett Today
CA Design & Print
Centurion Transport
Crow FM 90.7
Deb Frecklington MP
FAIS
Fiedler Brothers Plumbing
JBH Contracting
Ken Mills Toyota
Kingaroy Body Works
Kingaroy Joinery
Kingaroy Quarries
Ollies Mower Service
Paul Reeves
South Burnett Online
Swickers
The Carrollee Hotel
The Kingaroy Hotel Motel
Treasure Pics
Westlink Petroleum
Bunnings Warehouse Kingaroy
Cross's Livestock Transport