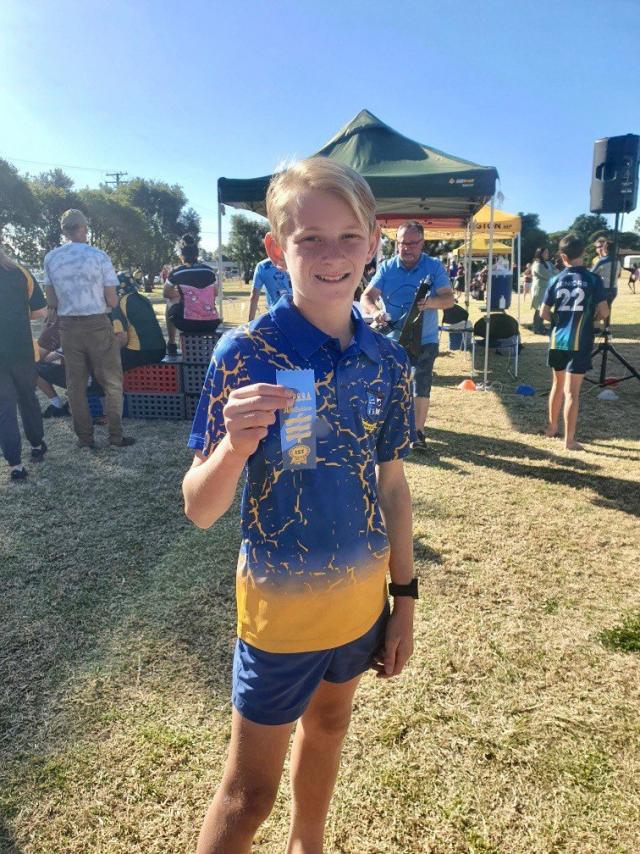 by Julian Lehnert
Murgon student Jayden Arndell has last week broken a record he can be proud of for the rest of his life: outrunning Steve Renouf.
Jayden competed for Murgon State School at the South Burnett 6-12 Track and Field Carnival at Taabinga on Friday, 29 July, where students from all over the region went head to head in classic athletics disciplines like shot put, discus, and sprints.
All the way back in 1982 – now 40 years ago – then 12-year-old future rugby league star Steve Renouf set the Murgon State School interhouse primary record for the 200 metre sprint, clocking in a time of 29.05 seconds.
The huge effort of 'The Pearl' would not be beaten for four decades – until Jayden came along on Friday, smashing Renouf's time and setting a new school record of 28.70 seconds.
When asked how he felt to have beaten this historic benchmark time – set by one of Murgon's very own legends, at that – the youngster was near speechless.
"I was shocked at first, as in the past I have gotten really close to breaking records but was always just short," Jayden said.
When news of his new record broke over the weekend, Murgon's 'Black Pearl' listened – and he was very proud of his town's emerging talent.
"Well done Jayden! I still have my blue ribbon for the 200m as well!" Renouf posted on his personal Instagram page, proudly holding the very award he himself earned 40 years ago for setting the same record.
"I was pretty proud of myself and was stoked when I found out that Steve Renouf posted a shout out to me on his Instagram," Jayden said in response.
"I pretty much like any sport that involves running, so that helps motivate me to learn new things and further develop my skills," he explained when asked about his passion for sports.
"I am also quite competitive so I often use it to push myself to see just how far I can go."