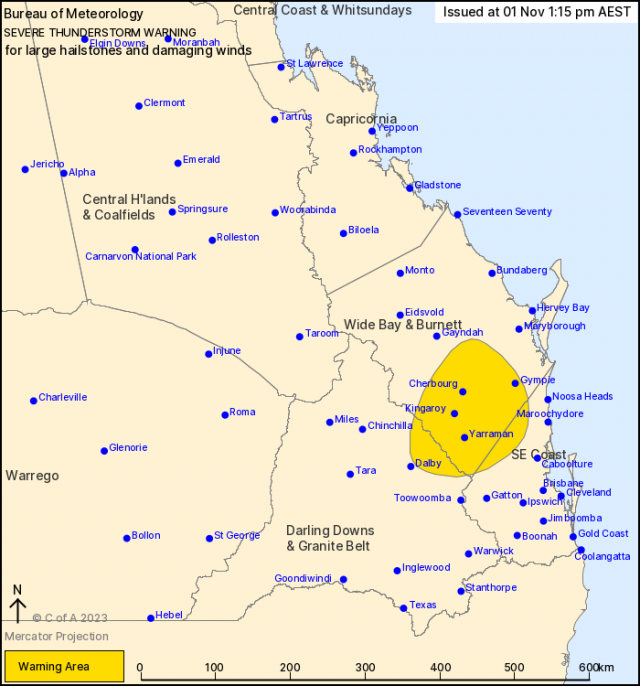 Residents of the Wide Bay-Burnett should prepare for a severe storm to hit the region, the Bureau of Meteorology warned this afternoon.
A report from the Bureau published at 1:15pm on Wednesday, 1 November said strong, damaging winds as well as hail are headed to parts of the South and North Burnett as well as the Gympie and Darling Downs regions, moving northeast from the inland.
Affected locations in the Burnett include Kingaroy, Cherbourg, Nanango and Blackbutt as well as Yarraman and Gympie outside of the region.
"A southeasterly change combined with an inland trough and strong winds aloft are creating a moist unstable environment for severe thunderstorms in parts of the southeast Queensland," the Bureau said in its statement.
"Severe thunderstorms are likely to produce large hailstones and damaging winds in the warning area over the next several hours."
A resident of Nukku just west of Blackbutt told Burnett Today that the area was already experiencing "pea-sized hail" as well as heavy rainfall.
The Queensland Fire and Emergency Service warned residents of the affected area to prepare for the storms by:
– Moving cars under cover or away from trees;
– Securing loose outdoor items;
– Seeking shelter, preferably indoors and never under trees;
– Avoiding to use the telephone during a thunderstorm;
– Being aware of fallen trees and powerlines.
For emergency assistance, residents should contact the State Emergency Service on 132 500.