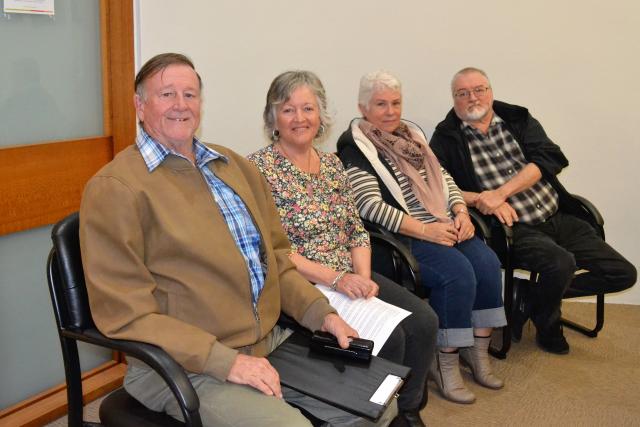 Euan Morrisson
Members of the South Burnett's forgotten village, Tingoora, approached the South Burnett Regional Council in-chamber on Wednesday, 15 June to raise issues of council inaction throughout their community.
The main issues brought to the council were the lack of drainage, curb and channelling, the ruinous town hall and other council assets.
This came after the Tingoora community held a meeting and raised these concerns with Mayor Brett Otto at the Tingoora State School on Sunday, 22 May.
Leanne Morgan and Mark Elliott spoke to council on behalf of the community.
Leanne began her speech by emphasising that the problems the village has with water runoff are not a new phenomenon- they began years ago.
"About 5-6 years ago, several residents in the village, were continually having water run into their properties during heavy rainfalls," Leanne said.
"Damage was occurring in their sheds, yards & also the roads, mainly due to the lack of drainage & minimal kerb & channelling in Tingoora."
As most of Tingoora is on a hill, water runoff has heavily eroded the land on either side of many roads causing deep ruts and potholes on the road.
"One resident has fallen at the front of their block due to erosion, in Muller St, an ambulance had trouble accessing a house due to the condition of the driveway, a child fell off his bike due to a rut at the side of the road and there have been other residents who haven't been able to drive into their own yards for 6 months due to the state of their driveways."
Some residents who have resorted to trying to fix the problem themselves have paid quite the price for problem-solving.
"One Muller Street resident had to spend $2000 building a retaining wall in his yard after council staff inspected his property & told him there was nothing they could do."
Due to the large amounts of rain Tingoora and the wider South Burnett had received over the last 8 months, the degradation of the community has only been furthered.
In a media release, South Burnett Regional Council stated that initial damage estimates in December 2021 following the November rain event were in the order of $10 million.
After the three events across January, February, and May 2022 this estimate doubled to a value in the order of $20 million.
So far, more than 240 out of 1300 sites identified as requiring Emergency Works from the May Event have been responded to.
Council crews are currently working overtime and RDO's to address this significant workload.
In some instances, these sites have been repaired multiple times already following previous events.
Since the first severe weather event in November 2021, more than 2,600 sites have been repaired under Emergency Works.
Under the SBRC Roads Submission 1 & 2 Contract Overview and Initial Dig Out & Repair Works is a list of 69 roads and streets to be fixed by council.
None of the roads or streets listed were in Tingoora.
The second speaker for Tingoora, Mark Elliott, told council a brief history of his work experience and his opinion of the roads.
"I was a Queensland Police officer for 35 years, 16 of those years I was a forensic crash investigator and several years a crime prevention and community safety officer," Mark said.
"In that role I was qualified to and often provided community safety audits including factors affecting road safety."
"In my opinion, the current condition of these roads and surrounds are such that there is a continuous and significant risk of injury or damage to all residents, and visitors to our village."
Mark read a letter by the principal of Tingoora State School, Julie Matherson.
Julie wrote that she rarely puts pen to paper to raise issues or concerns, but felt it was a duty as principal to do so for the safety of her students.
"In November last year there was a significant rainfall event which caused flash flooding…," Julie wrote.
"The effects of this were a car rollover just metres away from the school gate, a lost and presumed drowned family dog, and a car rolling over and submerging in fast-flowing water."
"This was followed a couple of months later with another incident in almost the same spot where water was running like a rapid over the road, subsequently the road has been torn-up and damaged significantly."
Julie acknowledged the council's temporary measures to fix the issue while they were unsuccessful.
On the matter of the town hall, Julie wrote that it was saddening to see it in such a state of disrepair.
"There is a lot of history surrounding the hall, and it has held many fond memories…"
Leanne told the council that a decision about the town hall was yet to be made and that this contributed to its continued ruin.
"Whilst at the Wondai Market recently, a stallholder mentioned she attended dances there in the 1960s & the hall was falling into a state of disrepair back then," Leanne said.
"It's now June 2022 & nothing has changed."