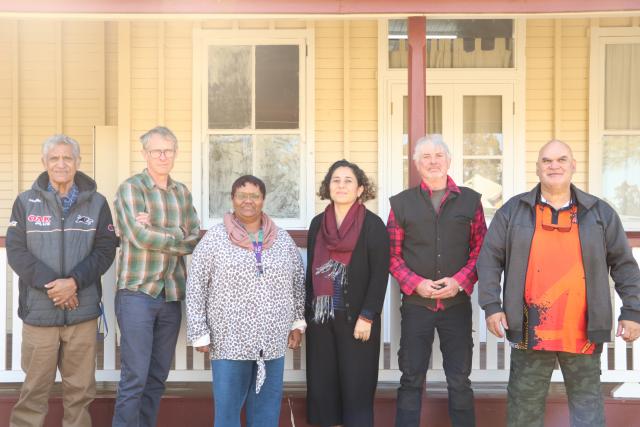 by Julian Lehnert
An aspect of Cherbourg's rich history is set to feature in a state-spanning research and exhibition project, with the focus this time being on the town's successful prefabricated housing industry of the 1970s.
The University of Queensland-led exhibition titled "Camps, cottages, and homes: A brief history of Indigenous housing in Queensland" will launch in Brisbane on Friday 19 and Saturday 20 August, featuring around 120 years of housing history across the state – with Cherbourg's story among it.
"[The exhibition] incorporates the time around the turn of the century and a lot of the ways that the government was bringing ideas into communities, enforcing them, providing these opportunities for employment, skills and training – but then how Aboriginal community members actually took those skills and training, evolved them and made them their own," UQ Anthropology Museum curator Mandana Mapar explained.
Ms Mapar and UQ senior lecturer in architecture Dr Tim O'Rourke visited Cherbourg earlier this month to hear the community's stories in person, corroborate evidence for the exhibition and yarn with Cherbourg residents.
"There has been lots of conversation for nearly two years now about how to do this and how to do it justice," Dr O'Rourke said.
The researchers' interest in Cherbourg lies in the town's self-directed and -contained housing construction program, which featured a joinery workshop, sawmill, and training opportunities.
"We're really interested in how the state provided housing," Dr O'Rourke explained.
"The state really only provided housing in its own communities like Cherbourg, Palm Island and Woorabinda.
"A professor that I work with told me about Cherbourg's prefab houses and I started looking into it. He's got these drawings [of the houses] – and there it became apparent that this was a much bigger deal than just people making housing for Cherbourg.
"We knew they were prefab here, but then I discovered one of those images – one of a house on Darnley Island – and it's the same house! That house is still there now," he added.
The researchers brought with them a slideshow containing photos of workers at Cherbourg's sawmill and joinery workshop, as well as sketches, reports and photos of and about the prefabricated houses.
"There was a whole industry in Cherbourg around making houses for here and around the state," Dr O'Rourke said.
"There was enough of a workforce to produce quite a few of these and ship them around – we discovered duplexes and houses at Cape York, Gladstone, Woorabinda, Bribie Island – and Cherbourg carpenters were often sent along with the houses to build them.
"It was the community providing housing – and probably, too, being exploited by being paid lower wages up until around the 80s.
"When the State Government gave control of Cherbourg back to the community, they did this terrible thing where they took out all the equipment – they took away all the machinery, stripping all the infrastructure from the community.
"Right now, we've got a housing crisis Australia-wide, and they took away the ability for people to make their own houses.
"I just think it's a very interesting story in the history of housing. Some folks often talk about how there are people relying on the state for housing – but it's the other way around!" he added.
Interested parties are invited to attend the launch of "Camps, cottages, and homes" at UQ's Anthropology Museum on 19 and 20 August.
"If folks want to come and stay in Brisbane with families as well, we'd really love to encourage that," museum curator Mandana Mapar said.
"We're really looking forward to having everybody there to be able to see the show."