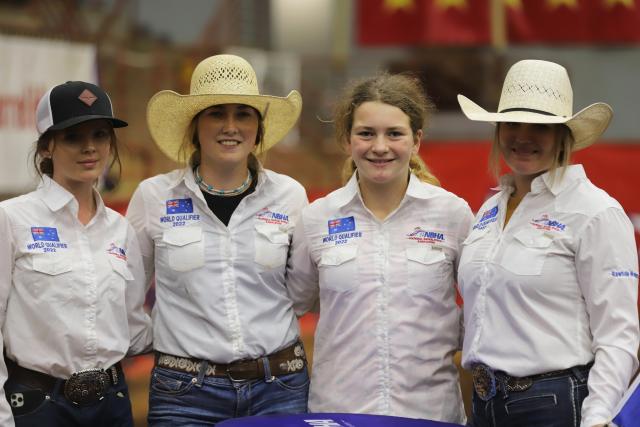 by Julian Lehnert
Eidsvold's Poppy Vella has done her town, region and the entire country proud this month, being one of just four young women to represent Australia at the National Barrel Horse Association Youth & Teen World Championships in Georgia, USA last month.
Poppy competed at the NBHA event in Perry, Georgia between 24 and 30 July after arriving in the United States at the start of the month.
She competed in a total of five rounds across the week, making appearances in the Teen World Finals, Teen Rookie Sidepot and Teen Redemption Round events on 26, 29 and 30 July.
Poppy completed ten runs all up on the backs of horses Cheeko and Nash, which were provided to her by former Queenslander Nonie Ann Ford, who now lives in Utah.
Of her 10 runs, Poppy placed 9 times, with her stand-out performances being in the Teen Rookie Sidepot rounds, where in Round 1 she came 15th in her division on Nash with a time of 17.542 and 20th in her division on Cheeko in Round 2, clocking in a time of 17.002 seconds.
Poppy also fought her way to the second of three rounds in the barrel racing Teen World Finals, competing against over 1,100 other riders from across the world.
Poppy's results:
Teen World Finals, Round 1, July 26 – 1172 Entries
17.701 Cheeko 5D-176th
17.542 Nash 5D-159th
Teen World Finals, Round 2, July 29 – 1168 Entries
18.125 Nash 5D-233rd
17.002 Cheeko 5D-109th
Teen Rookie Sidepot, Round 1, July 26 – 202 Entries
17.542 Nash 5D-15th
17.701 Cheeko 5D-22nd
Teen Rookie Sidepot, Round 2, July 30 – 200 Entries
17.002 Cheeko 4D-20th
18.125 Nash 5D-25th
NoltrexVet Teen Redemption Round, July 30 – 626 Entries
17.808 Cheeko 5D-72nd
30.789 (No Time) Nash – n.a
Stay tuned for more photos and an interview with Poppy in next week's edition of the Burnett Today!