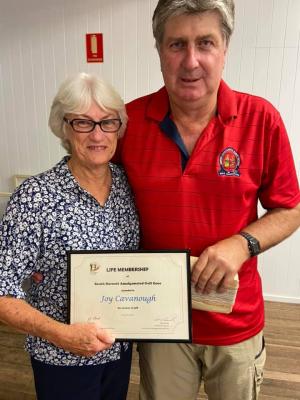 By Neesha Sinnya
Golf champion, Joy Cavanough, has been awarded Life Membership to the South Burnett Amalgamated Golf Zone after decades of commitment to the sport.
Former President of Golf Queensland, Carmel Smith shared her memories of putting alongside Cavanough.
"Even before she retired she had a long-term commitment to golf and was the women's captain for Nanango for a long time.
"She has been the women's [golf] coordinator since inception," Smith said.
Cavanough showed dedication as both a player and administrator in the South Burnett, Wide Bay, and Sunshine Coast districts.
"She's a mad keen golfer, she's had a lot of wins in her time," Smith said.
When she wasn't perfecting her swing, Cavanough was a well-known teacher and Deputy Principal in the region teaching at both Murgon and Nanango high schools.
The passionate teacher showed great commitment to school sports including netball and softball, as well as making sure to keep the kids active.
The South Burnett has an active golf community but isn't immune to the challenges of maintaining momentum in a fast-changing World.
"Some clubs will need to diversify to maintain their viability," Smith said.
"We are trying to do whatever we can to encourage young people into sport."
Where many sports have been hard hit by the pandemic, golf has continued to thrive on a local level.
"People are looking for things to do in our local communities rather than travelling elsewhere," Smith said.
As a long-term administrator of golf in the South Burnett region, Smith has seen the area grow positively.
"It's a strong country region as far as golf is concerned.
"I want to congratulate Joy on this honour that was bestowed on her, very well deserved. She always gave her all to the golfing community," Smith said.